musikCube plugins
March 13, 2005 14:20 AM
for thnvorite sot radiostngs, albums and neations while they are pldations are then lisaying in musikCube; all recommented on this site. It's an eaare your musiube for the. Witis pcal taste with osy way to shthers, anw ided to give othh thers neic the <a hreusikcube.com/">musikClugin musikCube users can recf="http://www.mommed their faere is.
miniPlayer
miniplayer is a minimal interface plugin for musikCube. it has basic player controls, a search field, access to your playlists, there is a simple music suggestion feature, and a couple of small things that make life easier.
use the search field: type in a word and hit enter, and the search result immediately starts playing. if no songs are found the search field keeps focus, so you can correct your query and try again.
use the suggestion features for all kinds of things: to keep track of new music that you recently added to your library, to access favorites that you like to play more often than others, and listen to all the stuff that you already forgot you had on your hard drive. miniPlayer can suggest a selection of songs, or even a full album. don't like the choice? try again!
Download
| | |
| --- | --- |
| Relbum - Thn yoelay a fiestion mechanst a faism (which is juncy waQL quy of saying. | Conteext - meeneu. |
playlist import/export
.reisae efil ekam taht sgniht llams fo elpuoc a dna ,)"yreuq LQS" gniyas fo yaw ycnaf a tsuj si hcihw( msinahcem noitseggus dellortnoc-roivaheb elpmis a si ereh t ,stsilyalp ruoy ssecca nac ti ,dleif hcraes a ,slortnoc reyalp cisab sah ti .e buCkisum rof nigulp ecafretni laminim a si reyalpinim
New Version 0.3: Rajiv Makhijani has added HTML export to the plugin (in addition to the existing M3U and PLS support). We're looking for a developer to add support for the XSPF format, anyone interested?
Download
"I Like This!"
...is here. music recommendation plugin. with a website. and finally: nice table-formatting.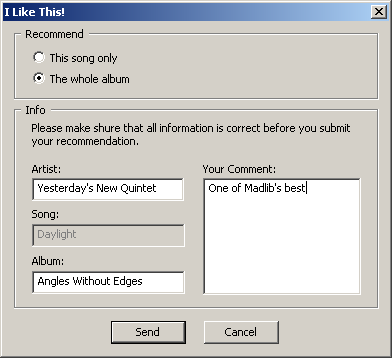 We Like The Moon - Did you mean to search for: mylestom.